Syrris Orb Pilot improves commercial laundry sustainability
Xeros Technology Group – a company specializing in sustainable polymer solutions for the commercial laundry industry – approached Syrris with a requirement for a scale-up jacketed reactor system with a custom stirrer capable of mixing 50 KGs of their novel XOrb™ beads to aid in their research and development.
Syrris' Custom Parts Team worked with Robert Bird, R&D Project Manager at Xeros, to develop a custom double-helix stirrer and gearbox, specifically designed to fit a 50 L Orb Pilot scale-up jacketed reactor vessel.
Robert Bird explained: "One of our missions at Xeros is to improve the sustainability of industrial laundry washing by providing technologies that dramatically reduce water consumption. I work within the Polymer Development Team, where we have produced novel XOrb™ beads. These spheroidal balls can be added to a wash load to create a gentle mechanical action, helping to remove dirt and stains using less detergent and at lower temperatures, which saves water and reduces cost."
"We have been using Syrris' Orb Pilot – a pilot-scale jacketed reactor – to aid the development of our XOrb beads since early 2018, and it has increased our production capabilities immensely. This system allows us to produce XOrb beads in the volumes required for use in large industrial washing machines, rather than having to manufacture many smaller batches to yield the necessary quantities, as we did previously.
In the space of a week, we can now produce more XOrb beads than we could have done in two years without the Orb Pilot system!
"Syrris also helped with the design of a customized stirrer, as well as adaptations to the gearbox and motor of the Orb Pilot, which gave us confidence that the setup would be suitable for our requirements.
We are extremely happy with our current setup from Syrris and the improved scalability it offers for our XOrb bead production."
Syrris' ability to produce custom parts was one of the main reasons Xeros chemists and business leads chose Syrris for their chemistry reactor needs and was essential for them to maximize the production of their XOrb beads.
Rob Ranford, Head of Custom Parts at Syrris followed a 4-step process for developing the custom stirrer and gearbox for Xeros;
The custom stirrer and gearbox feasibility study
We designed a helix-style stirrer based on the requirements given by Xeros. We developed a prototype designed in a way that enabled multiple single, double, and half-height helix configurations to be trialed for mixing and optimizing torque to speed ratio, and also designed a gearbox system to convert the stirring speed from the motor at a ratio of 5:1.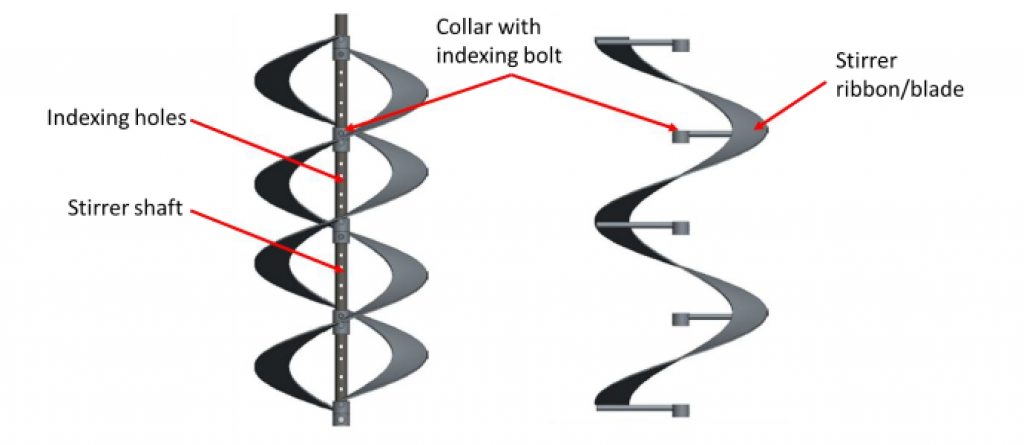 Prototyping the custom stirrer and gearbox
Following sign off from the customer, the Custom Parts Team manufactured and tested the prototype. The prototype was built with multiple indexing holes along the stirrer shaft which enabled the team to test the mixing performance of single, double, and half-height helix configurations at varying angles.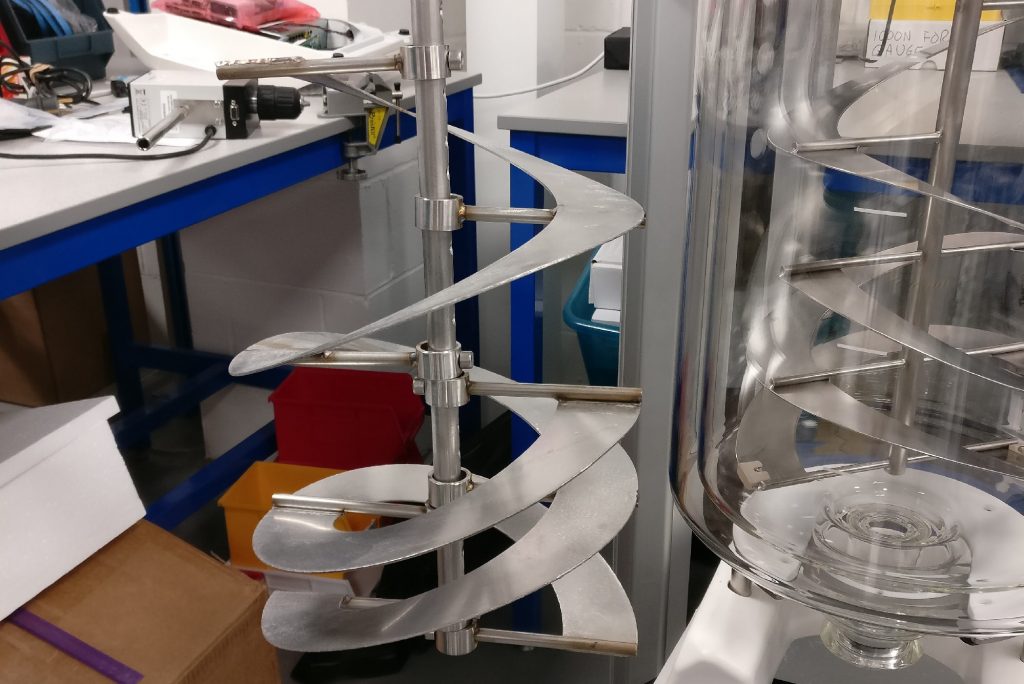 The final custom stirrer and gearbox design
After determining the best stirrer configuration, a final CAD design of the custom stirrer, vessel lid, and gearbox was sent to Xeros for approval before the production build. A flexible joint in the stirrer shaft was also added to the design to offer some tolerance in stirrer motor alignment with the gearbox.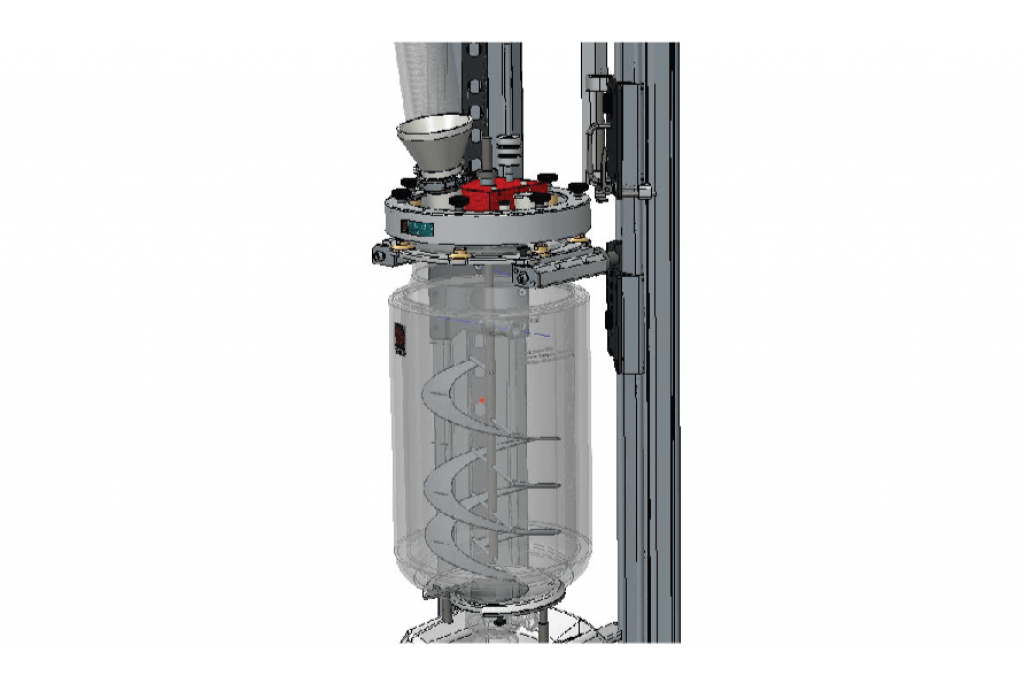 Production of the custom stirrer and gearbox
Once Xeros had signed off on the final design, manufacturing drawings were completed, the parts manufactured, and the system built and tested. Instructions were also provided as an addendum to the Orb Pilot manual to cover the use of the custom parts.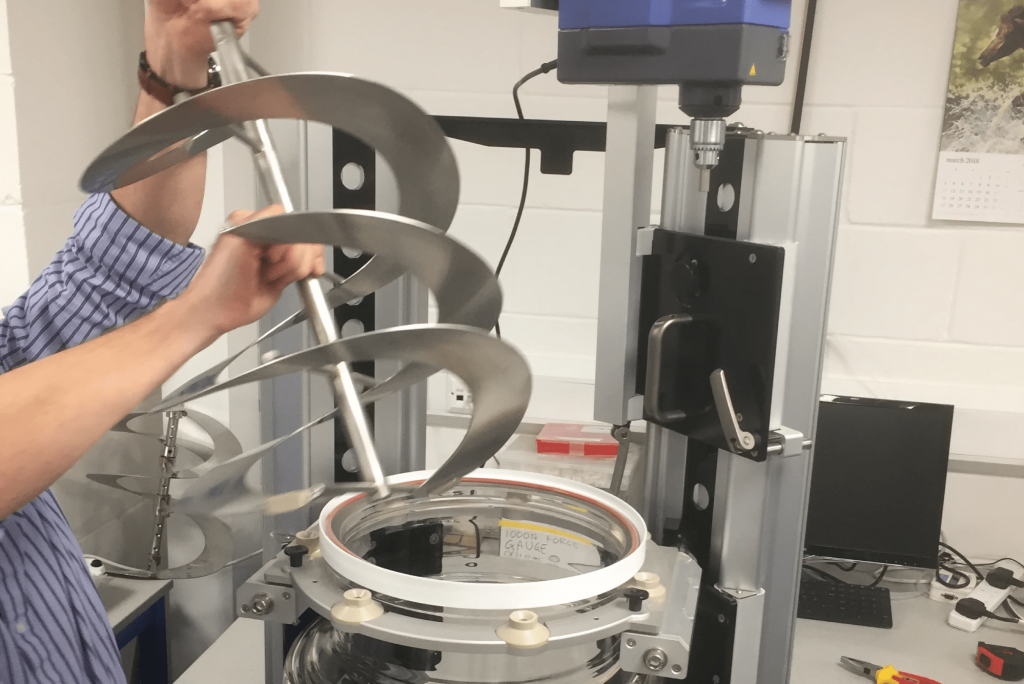 The custom stirrer helps to stir 50 kilograms of Xeros' XOrb beads in a 50 L reactor vessel, while the 5-1 gearbox enables fine motor control at slow speeds. Syrris' ability to produce custom parts is one of the main reasons chemists and business leads choose Syrris for their chemistry reactor needs. Discover how our Custom Parts Team could work with your lab, and contact us to discuss your requirements.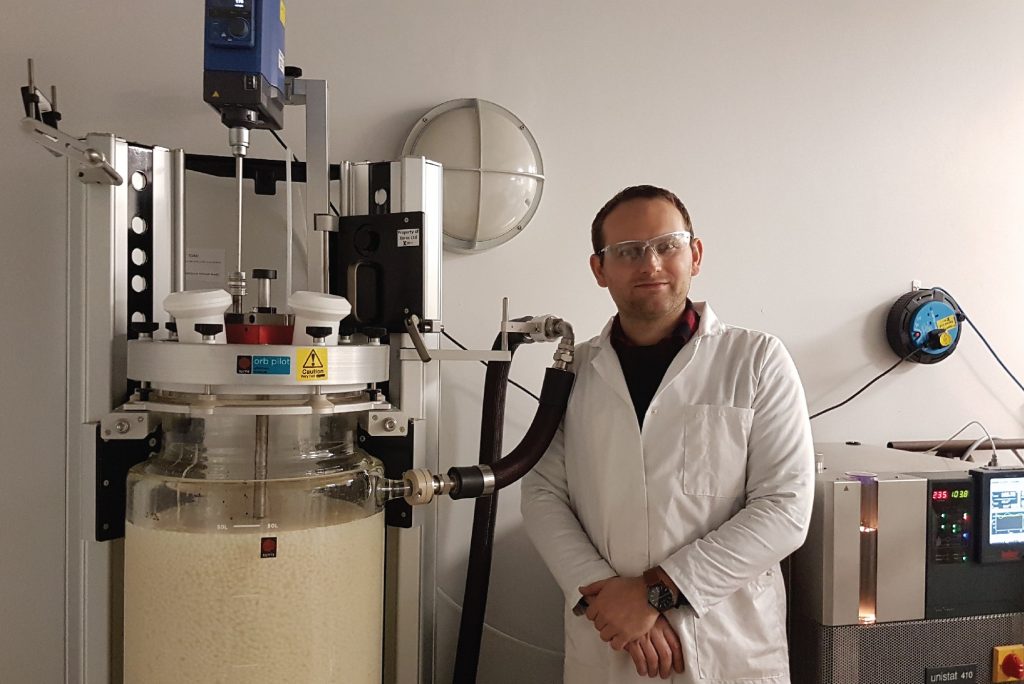 Robert Bird at Xeros Technology Group standing next to the Syrris Orb Pilot with custom stirrer and gearbox
---
If you're interested in finding out more about Orb Pilot or our ability to produce unique customized parts for your chemistry, contact us today to speak to a Syrris chemist!